Sunday, October 22, 2006
Remember me?
This is the question Blogger asked me as I signed in. And no wonder - I've been very delinquent. This teaching job - while fantastic - is sapping me of more energy than I thought possible. I've still been knitting and a super exciting thing happened this week. I had been asking the LYS's in Ottawa if they would be able to help us out and only one really answered the call.
WoolNThings
did something truly amazing. The owner called and said she had some bits and pieces for us and when I went it I was shocked. There were three garbage bags full from one of her distributers and a box of stuff from her own stock.
This is from the distrubuter - it is some nicer acrylic worsted and some pretty cotton verigated.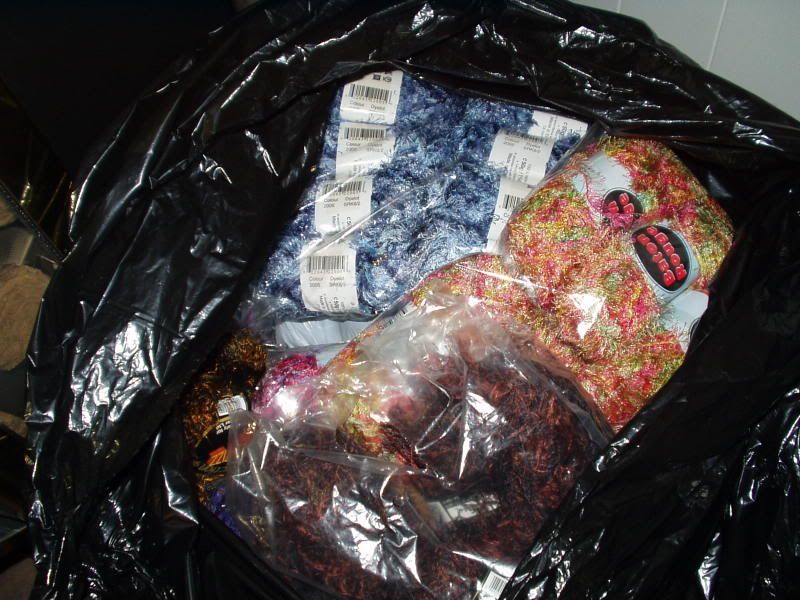 This is the bag that makes me cringe but I know the students will be fighting over. It's an entire box of fun fur and eyelash yarn.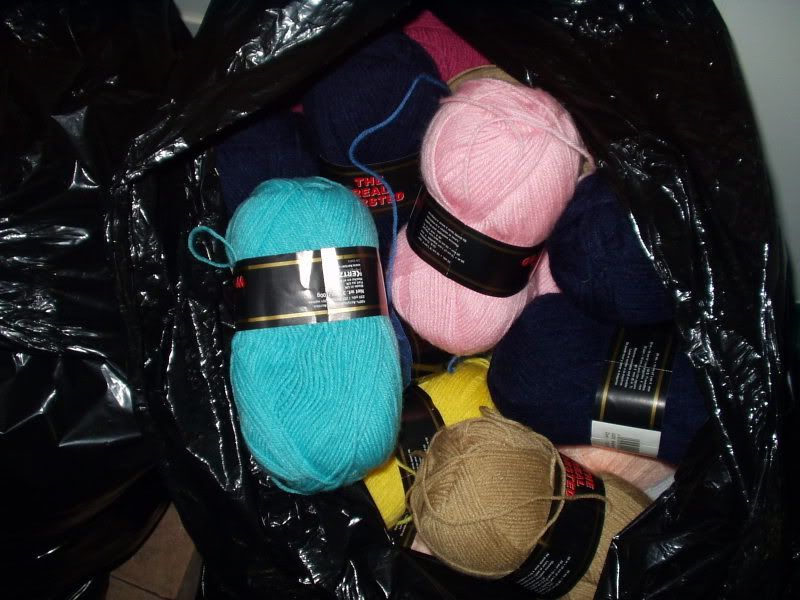 This is more of the acrylic worsted but these kids are going to be thrilled with the colours so much that I don't think they will mind.
And these are the bits and pieces from this wonderful woman's own stock. There is some white buffalo that is going to be great because some of the students really want to make thrumed mittens.
So now all we need are some more needles. I got a great deal on a vintage lot on ebay but there never seems to be enough.
I have been doing some knitting and spinning of my own as well but I don't have alot of great pictures.
Glee
is finally finished and I have to express some frustration. It wasn't until I was completely finished the damn thing that ZephyrStyle admitted that the published CAST ON numbers were all incorrect. I had tought so while I was working the thing but for the technical editing to be so poor as to not catch a mistake in the first line of the pattern was pretty dissappointing. I don't know that I will buy from them in the future.
I also finished a
Gray Ghost
which I am in love with. It's out of Wool-Ease but I don't even care. When my classes saw it they all wanted one and I assured them that if they would only come out to the Sit and Stitch I would happily show them how to make their own.
I'm also super scarf happy recently. I'll try and post some more tomorrow but it is enough to say I really don't need this many scarves but who's counting.
Comments:
i love sparkly and fuzzies to add into my spinning, if you want to swap me for some things that fit that bill, i could swap for other things you could use at school even...let me know!
A scarf is a very useful thing! IMHO, you can never own/knit too many :) In fact, I'm working on a Lady Eleanor scarf/stole right now -- after I swore I was going to start a sweater...
Good job getting such a major yarn donation! You might also look for deals on mill ends... Can't wait to see what you and your students knit! Be sure to take some pictures of the group :)
Post a Comment
<< Home