Sunday, September 17, 2006
On the art of letting go.
Two posts in as many days - you guys are gonna get spoiled (the all of 6 ish who check my blog - love you all ;-). I decided to dye up the silk from that I bought Friday and I thought I'd use it for good blog fodder. It was a really interesting experience in just letting the colour happen.
My favourite pic is on the left. It looks like I'm boiling up something evil in there! I orginally wanted something fairly dark and in the black family. I knew from some research that Wilton's black tends to split so I was happy to let it do so and see what came of it. It was 250g ish of silk and a big crock pot with plenty of dye and vinegar. Here's what came of it.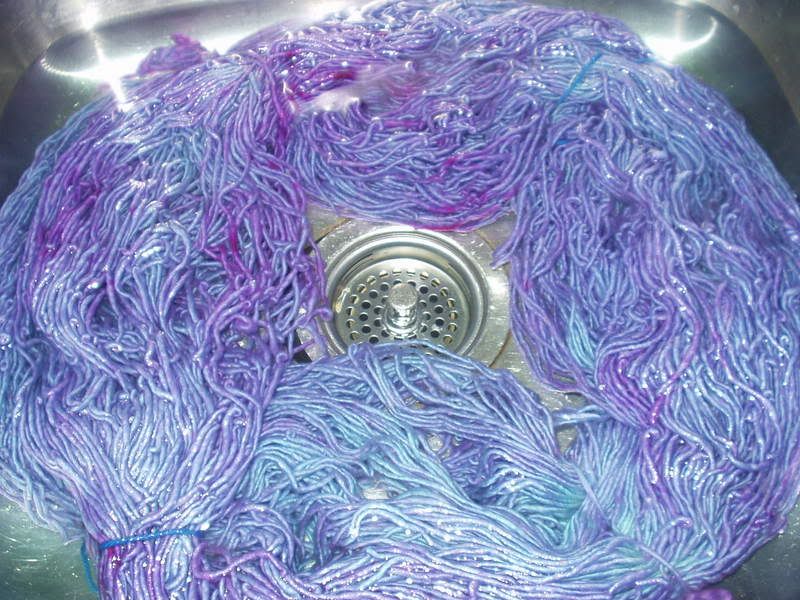 It was slightly underwhelming. I liked the colour split but it just wasn't dark enough for me or for my sister for whom this yarn is destined. So I threw it all back in with a whole bunch of burgandy (wilton's again) to see if I could get a darker and more even result. Here's what I ended up with.
I'm much happier with this and while I wish it was darker and less floraly coloured it is beautiful so I think I will leave it at this and if sis dosen't like it I'll dye the finished product for her.



Comments:
I love that fuschia result - it would make for a lovely shawl/wrap.
Keep posting pics- how about a nice apple green or pumpkin orange?
:)
Anne aka roxy
Post a Comment
<< Home